We decided to build our Synth in late 2005 and contemplated its layout and began collecting materials for it. When we actually began construction a bit more than a year later, in aught seven, Will and I started this site as a diary of our progress — really for our own reference — and at first, just for fun. So then we listed the modules we built in chronological order - like a diary. Recently, though, we've re-arranged this page so it's better for reference — by module name first.
The route we took has been, in a way, less practical than it might otherwise have been. It would have been practical to focus on building modules needed to make sound soon. To do that, we might have built a white noise generator, LFO, oscillator, A filter or two, and an envelope generator and VCA.
But, for a variety of reasons, we couldn't and therefore didn't follow that sort of course. Instead, as we got the kits we'd ordered from Paul Schreiber, we built them. And while we were waiting for shipments of kits, which came over a period of years, we built modules from other engineers too. As we built them we did alive/dead testing but no more. We put the modules away until we could get back to them later.
By the time we at last had the opportunity to build our synth cases starting in March 2010 we had built a lot of the modules. Building the cases meant finally having power supplies readily available — and a enough critical modules — to begin real testing and calibration. We built a stand for the keyboard controller. We thought we were ready....
But life intervened. It wasn't until June of 2011 that we began plugging the modules in and really testing them. We started with the LFOs and they all worked fine. We tried very simply plugging the keyboard into the MIDI converter and made some sound with one of the VCOs — a 310. At least it made sound. And so, for fun, we hooked up the EGs and ran into trouble.
We knew that some of the modules wouldn't work — I mean — it's completely predictable that we would make mistakes.
But life (and death - and coming back from death - yup literally) intervened again and so we didn't have time to resume testing and trouble-shooting until June of 2016. And so as of now - June of 2016 we are resuming work testing and trouble-shooting and calibrating - and building modules again. We made a separate page documenting the process of making our way through testing the modules (here), but we wrote down our module-specific work on their respective construction pages.
The diagram (way) above shows our cabinets with the modules we've already completed in white, the modules soon to be completed greyed-out, and the reach of the 20in MOTM standard power cables are the red arcs. It also shows the power indicator LEDs per our power distribution plan.
The following image is of a patch sheet we made: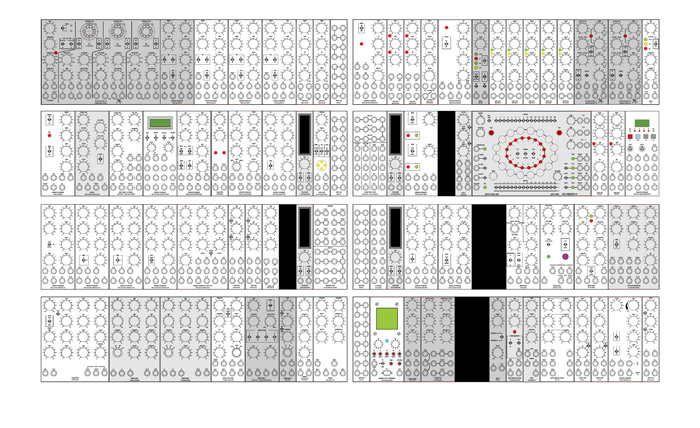 Click here to download the Powerpoint file (3.2M) we used to create the Patch Sheet. The modules are separate images you can use to make your own and to plan your synth.
Click here to download a pdf (10.3M) of the above Patch Sheet 24in x 15in.
Click here to download a pdf (6.3M) of the above Patch Sheet 17in x 11in .
Click here to download the Powerpoint file (3.2M) we used to create the Synth Design diagram at the top of the page.
We want to acknowledge the generous contribution of the Synth community in general in helping us in our endeavors - but we also want to thank some people in particular. (a list will go here)
The page has gotten so long that we made a table of contents: