Bill and Will's Synth
Tellun 867 Tuner (with DJB-A440)
& Headphone Monitor Construction
November 2008 -
In February of 2007, in the process of perusing Scott Juskiw's site foraging for mods we'd want to include when building our Synth Tec MOTM kits, we came across this module which we felt we'd absolutely need. For our recording projects, tuning is of paramount importance because we're going to be blending electronic and acoustic instruments. And, remembering my experiences from the olden days, I know tuning a synth can be quite difficult sometimes... so we decided to dive in.
Scott's TLN-867 Tuner web page is here. You can download a .pdf copy of the 1.0.1 User Guide we used by clicking here (apx 143K). The module has no PCB specifically designed for it. Rather, it uses some of the Multi-Use Universal Buffer (MUUB) PCBs designed by Richard Brewster, Larry Hendry, and Scott Juskiw and available through Scott. Specifically, one MUUB4 and two MUUB3s are needed.
Also, two special ICs are used... one - the DJB-A440 Reference Oscillator is available only from Dave Brown and the other the MAX7401 which we also got from Dave.
As it turns out, we actually tune our pianos to A440.5. That turns out to be the note that's the average between our Hammond, and glockenspiel, both of which are non-tunable. We'll ask Dave if he can make a special Chip tuned to 440.5.
Table of Contents
This documentation has become so long that we've broken it into three separate pages and sections within them. Here's a table of contents that we hope will make it easier to traverse them:
background - presents an explanation and Scott Juskiw's initial description of the module with a photo
Parts - presents a Bill of Materials and notes about it
Panel - presents the MOTM format panel
Mounting Bracket - our home-built custom bracket
Construction PCB 1 - MUUB4
Construction PCB 2 - MUUB3
Construction PCB 3 - MUUB3
PCB Connections - wiring the PCBs together
Panel Wiring - connecting the PCBs to the panel
Background
Scott writes:
The TLN-867 Tuner & Headphone Monitor combines an A440 reference tone generator, a headphone amplifier, and a beat frequency indicator all in a 1U module. The A440 generator is none other than David Brown's excellent DJB-A440 Reference Oscillator, a super stable digital A440 tone generator.
No matter how large your synthesizer is, you don't need more than one A440 tone generator module. A dedicated A440 module would only have a single output jack which, IMHO, is a waste of an entire 1U panel. If, like me, you have just the one head with two ears on it (a mono head), then a headphone monitor is another useful module that you only need one of. Combining the two together makes even more sense should you want to tune your oscillators without sending the A440 tone to your output amp for everyone else to hear. Simply plug your oscillators into the headphone monitor and tune them to the internal A440 tone in complete privacy. The A440 tone has a dedicated volume control so it can be removed from the headphone mix entirely. This is useful for when you want to tune oscillators to some other frequency, or just for having a private mix of any two signals in your synthesizer.
The TLN-867 also features a handy beat frequency indicator with four LEDS that provide a visual indication of the frequency difference between the left and right inputs, or either the left or right input with the A440 reference tone. I just like blinky lights, what else can I say?
The panel controls are as follows:
PHONES pot: Sets the level of the signal at the PHONES jack.
A440 pot: Sets the level of the A440 tone sent to the headphone monitor.
MODE switch: In the STEREO position, the signal at the LEFT jack goes to the left headphone speaker and the signal at the RIGHT jack goes to the right headphone speaker. In the MONO position, the signals at the LEFT and RIGHT inputs are summed and go to both headphone speakers. MONO mode is also handy for checking for phase cancellation between two signals.
BEAT switch: Sets which two signals are applied to the beat frequency circuit. This is a three position switch. In the upper (LEFT) position, the signal at the LEFT jack and the A440 tone are used. In the lower (RIGHT) position, the signal at the RIGHT jack and the A440 tone are used. In the middle position (LEFT+RIGHT), the signals at the LEFT and RIGHT jacks are used.
LEDs: The four LEDS are the output from the beat frequency circuit. They provide a visual indication of the frequency difference between the two inputs to the beat frequency circuit.
LEFT jack: The input for the left channel.
RIGHT jack: The input for the right channel.
A440 jack: Output for the A440 tone (always 10Vpp).
PHONES jack: Plug your headphones in here.Dedicated 1volt/octave input with military-spec 25ppm 0.1% summing resistor...
...You'll need one MUUB-4 and two MUUB-3s to build the TLN-867. If you look at the pictures on the website, you'll see the three boards mounted on the stooge brackets:
Board #1: MUUB-4 (bottom), board #1: headphone amp, +5V power, power connector
Board #2: MUUB-3 (top left), board #2: A440 (U3-U5), left comparator (U7), beat frequency indicator SA and SB signals (Q2, Q3, U9, U10)
Board #3: MUUB-3, board #3 (top right): right comparator (U8), inverter for the A signal (Q3), beat frequency indicator driver (U11-U13)...
...Total current draw for the TLN-867 is 45 mA @+15V and 27 mA @-15V.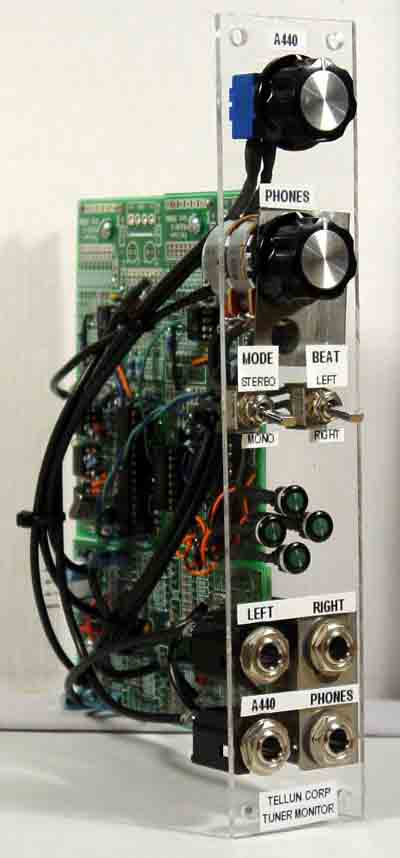 Schematics
Here's Scott's Schematics (click on the image to see a high-rez version):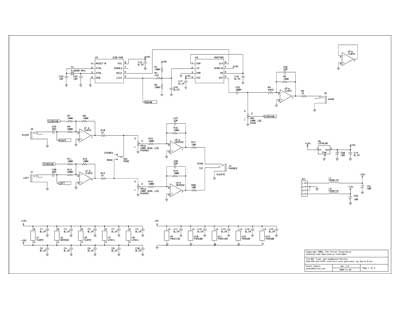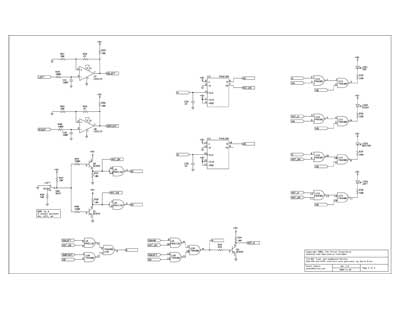 Modifications
We tune our pianos, guitars, and other acoustic instruments to 440.5 - an average between our non-tunable instruments (Hammond organ is aprox A440.1 and the glockenspiel at aprox 440.8 or 9., etc.) so we asked Dave Brown about the possibility of having a DJB-A440 Reference Oscillator chip made to give a 440.5 reference tone. Even better than we'd hoped, he programmed a chip so it gives both 440 and 440.5 hz outputs - switchable by grounding "pin 7" of the chip.
Of this special-made chip, Dave wrote to us:
"Pin 5 is your output at 440 Hz
"Pin 5 shifts to 440.497 Hz when pin 7 is grounded."
We couldn't have hoped for better.
So we'll put an additional switch on the panel to toggle between the two values and we'll adjust some of the labeling accordingly. Here's the modification worked into the schematic diagram - switch up = 440, switch down = 440.5: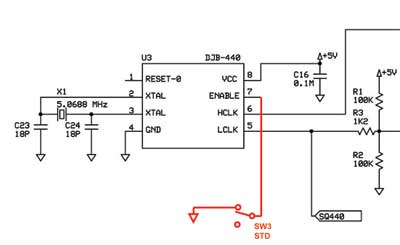 Parts
Will and I have developed a parts-list / bill-of-materials in the form of an XL spreadsheet (as usual). We want to thank Dave Brown for making two DJB400s for us one in Feb of 2007 which was the original and the new, modified one that has the 400.5 option.
We've used it this parts list to make our Mouser purchases and we are relatively confident in our specifications.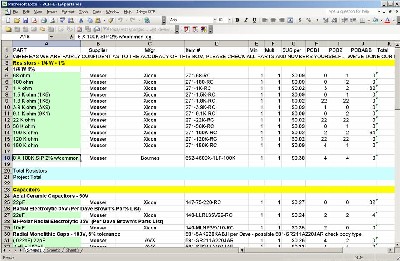 Click here to download our XL spreadsheet Parts List
Panel
We developed a Front Panel Express panel (FPD) based on Scott Juskiw's design but including the extra switch for the DJB-400 modification. Click on the image below to download the FPD file.

Here's how it came from Front Panel Express: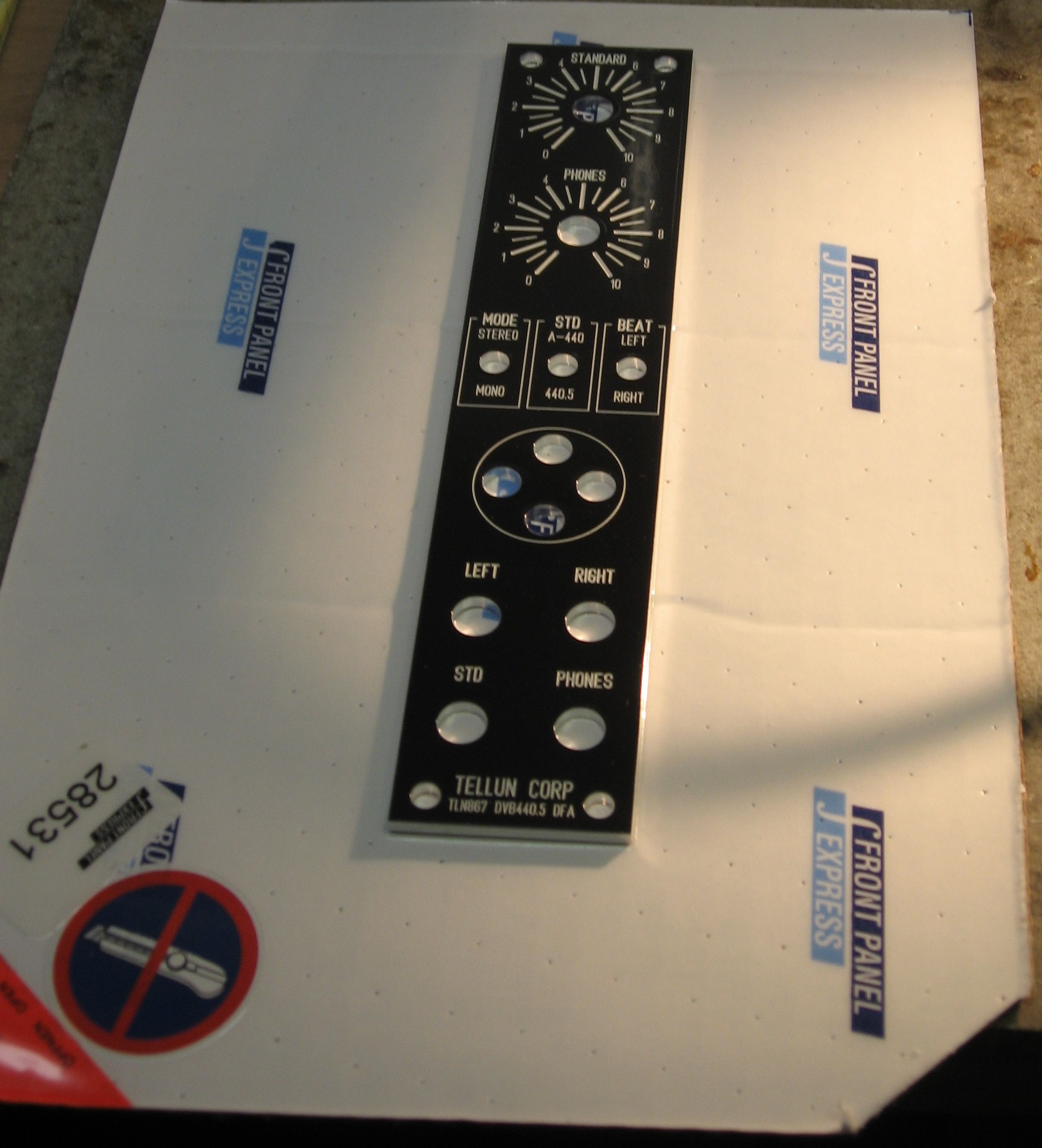 Pre Construction Phase - PCB Mounting Bracket
Scott urges assembling the pcb brackets and the panel first. We made a custom mounting bracket.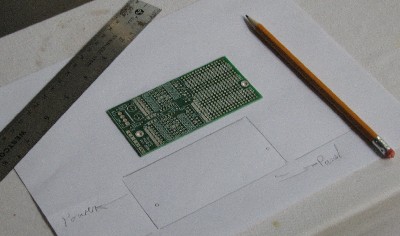 We laid out the pcb on paper to get an idea of how to make the bracket...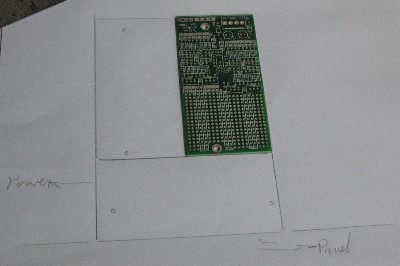 laid out the pcb positions on paper to get an idea of how to make the bracket.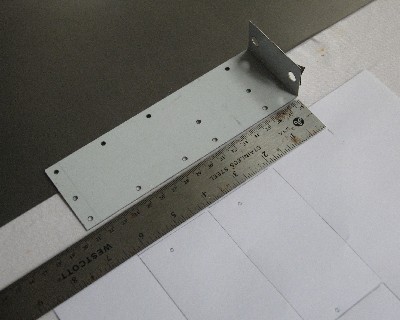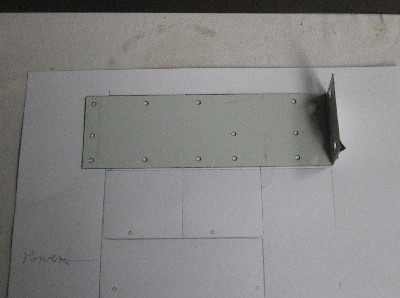 We figure the pcbs should sit 2 inches from the panel.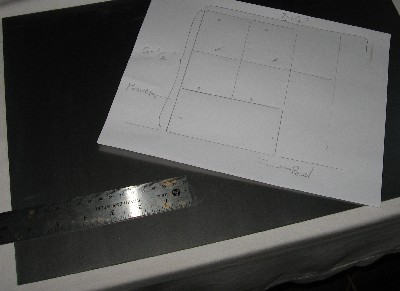 So then we drew the layout on some 18ga sheet steel.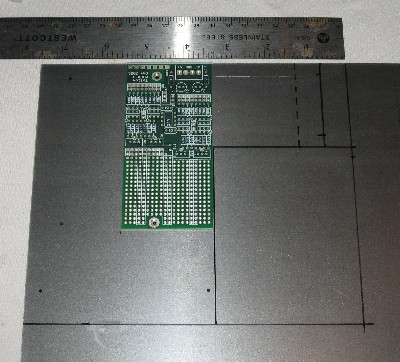 We marked the location of the holes.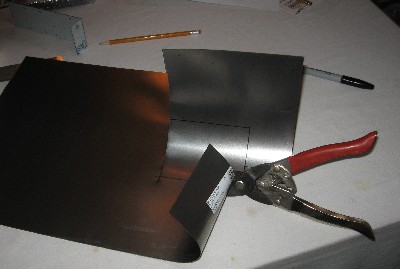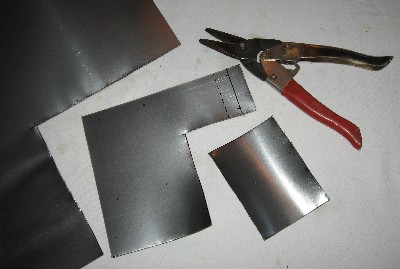 We cut the steel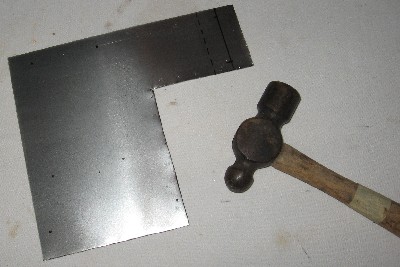 and flattened it by gently tapping with a hammer.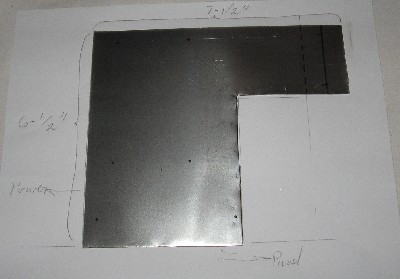 Looks good.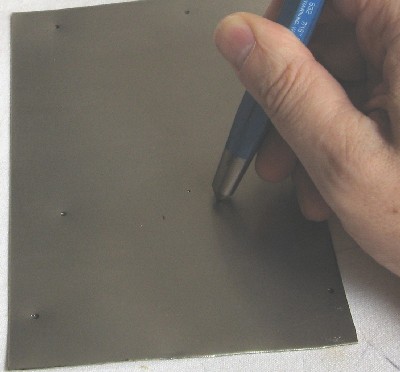 Time to drill the holes - first we punched the centers -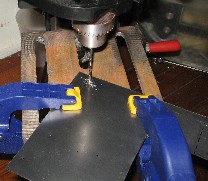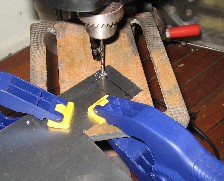 then we drilled the pcb mounting holes and pilot holes for the pots with a 1/8 inch drill.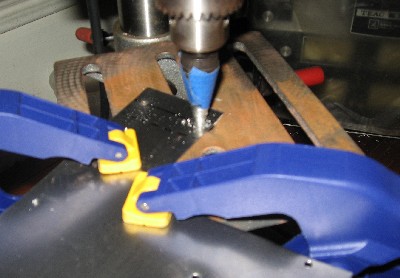 We used a step-drill to drill out the pot holes to 3/8 in. We flipped the metal over and drilled from the other side just enough remove the large burr that had formed as the step- drill did its job.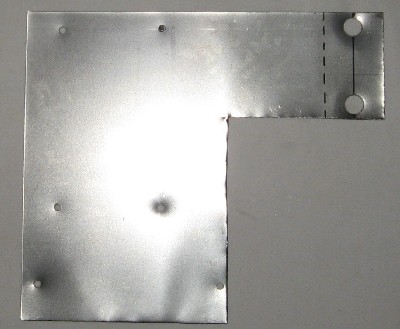 holes done. Then we bent the metal on that dotted line...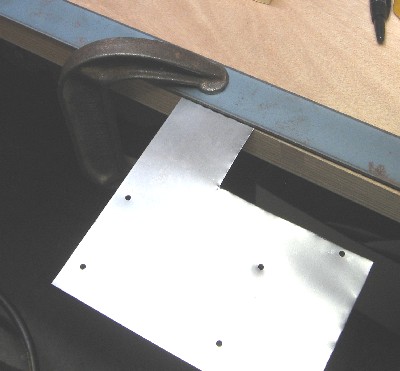 by clamping it down under a thick steel bar...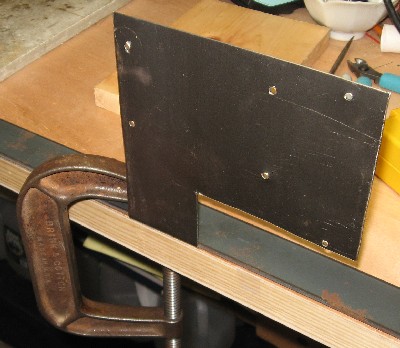 and bending it over.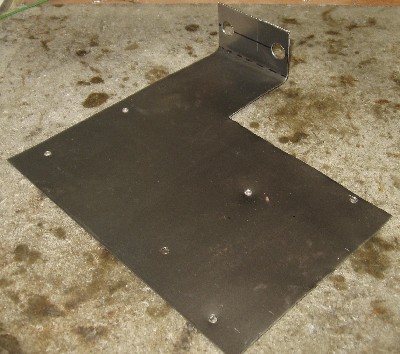 We could have bent it sharper if we'd used a piece of wood to bend it over, but it's really OK as it is - it's at 90 degrees - that's what counts the most...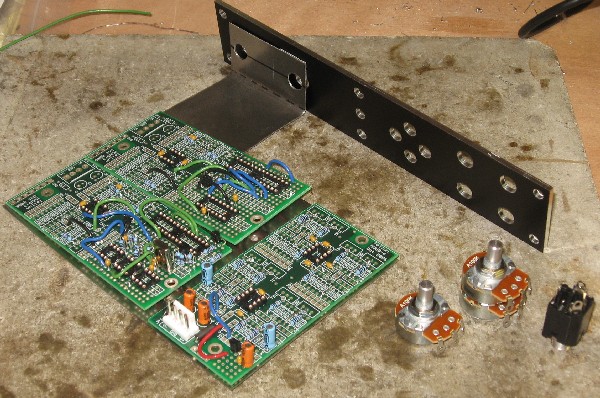 looks good.
PCBs 2 & 3 IC Physical Conflict Solution.
Late in construction when we got to installing the ICs in their sockets, we discovered that the particular ICs we got for U9 and U10 and U12 and U13 wouldn't fit in the contiguous 14-pin sockets provided for them. As a solution, we soldered two long-pinned sockets like this: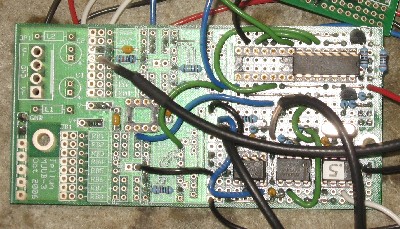 the problem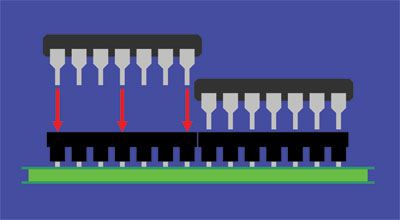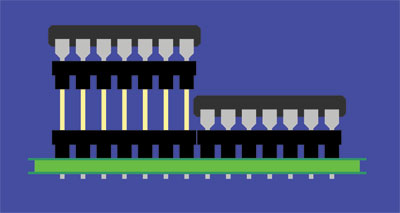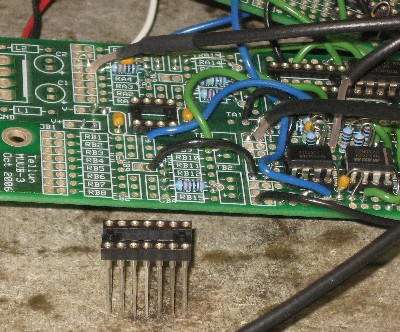 long-pin IC socket (mouser #575-12343314)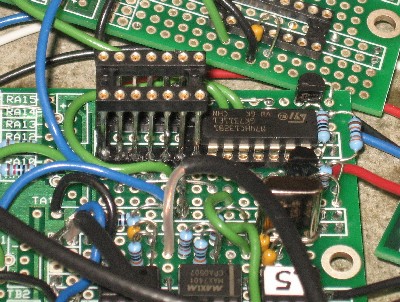 raises U10 above U9 (and U13 above U12)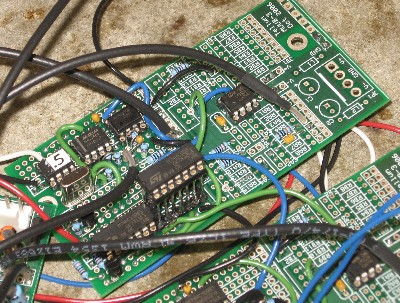 Construction / Connections
Snack - A Quick Steak w/ Peppers, Garlic, Onions, Mushrooms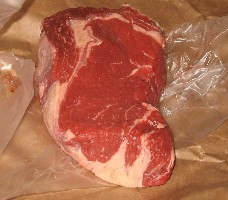 a beautiful steak - resting for a half hour... grass fed beef (OMG!)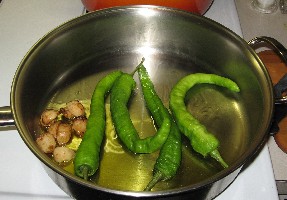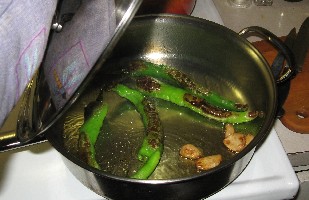 We start out with some already grilled garlic and some hot long peppers - our favorites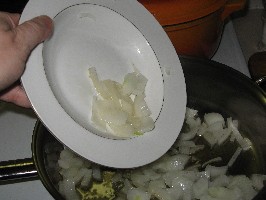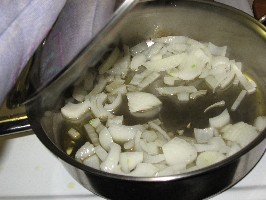 Now onions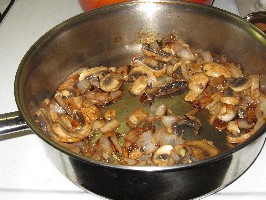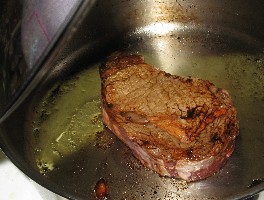 OK - now first add 1/2 a beef bullion, some red wine -stirr - then add the mushrooms. When they are done, we added a little more olive oil, the other half of the bullion, and then started the steak.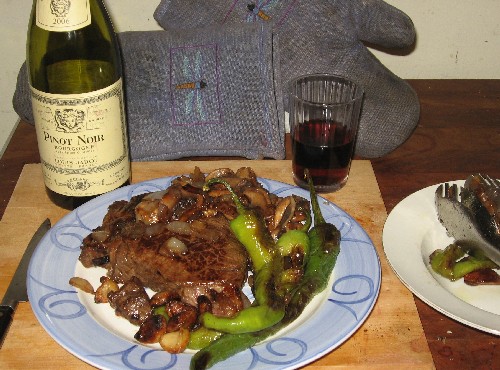 Served up - maybe a little monochromatic... but divine.
And now, back to work.
Construction Done
Set up / Testing
Use Notes