Jürgen's site describes the module:
"I already have a lot of different VCOs, from the ultra precise MOTM-300 to the lush, but not so well-tracking VCOs of my EMS-Synthi clone. Each VCO has it's benefits, the CEM3340's (partly under autotune control) are the "workhorses" in the OB-8, the Prophet 5 and my own JH-3, the Yamaha CS-oscillators are more on the "temperamental" side, but still playable without autotune (the 4 ones in my CS-50 stay better in tune than the 8 ones in my CS-60 ...). The precision of the MOTM VCO is invaluable for complex audio range modulation patches. I've never heard better drones than from three EMS VCOs running at almost the same frequency, and beating against each other in an ever changing pattern.
"My goal was to build a set of VCOs that have the untamed bass range power of early EMS and Moog VCOs, but which are tracking a keyboard voltage over 5 or more octaves nevertheless. I found that "untamed" Beating in the bass range and controlled beating in higher octaves is not possible with standard exponential 1V/Oct oscillators. A good part of that special sound of early Moog and EMS oscillators is not because of any "randomness", "unstability", "instability" or "noisyness", as so often is said. A good deal of their behavior is because of that, but it is not the whole story. There are also some very deterministic factors in these old circuits which have been unpleasant side effects for the designers back then, but which are worth a closer analysis when we're designing a musical VCO today. This is implemented in form of three "linear detune" potentiometers on the JH-5A VCOs.
"Features
Discrete (no opamp), noisy servo in expo converters (VCS3 feature)
Emulation the low frequency behaviour of linear (Hz/V) VCOs and of leakage (EMS VCOs)
Capable of very pleasant beat rates between the VCOs over the entire keyboard range
Allows rich and powerful animated bass sound, and smooth "phasing" slow-beating sound in higher octaves
Discrete (no opamp) pulse width modulators (capable of smooth audio rate PWM)
Limited PW range allows PWM overmodualtion (CS-80 feature)
Low level (Moog) or high level (MOTM) outputs
VCO driver with two CV inputs, LFO oscillator with limited speed range and voltage controlled amount
Accepts potentiometer (passive modulation wheel etc.) or CV for vibrato control
Exponential (RC-Shaped) Portamento
Either one shared, or 3 individual potentiometers for Initial Pulse Width"
Jürgen's site has many more details on it - but we want to include this part here too because it speaks to the heart of why, in particular, we want to build this module.
"Drift and Noise and all that stuff
"Every few years there seems to be a heated debate how "stable" a good-sounding VCO should be, or shouldn't be.
"I never quite understood how one can make an almost religious question out of this. IMO, the situation is quite easy: Find which factors cause these random changes in a VCO (there aren't many possibilities!), and then decide if you either:
1. want to get rid of them, or
2. add them externally, or
3. deliberately keep them in your VCO.
"VCOs with design philosophy 1 are more expensive, can be used in applications where stability is important, and you can always do Number 2.
"I could have built a VCO like this, and added the linear detune feature there. But I decided to go for Number 3 in the "Living VCOs" project. Asuming those who buy them want to play animated 3-VCO-sounds in the first place, I kept everything as simple and unexpensive as possible, and I've chosen the same noisy 4-transitor exponential converter that EMS used in the VCS3. I'm not overly scientific about it - I just like the sound of it."
Exactly. You know, I suppose you could base a synth on these three VCOs - especially if you include a wave-shaper Sister-module. But we wouldn't want to. We like Paul's super-accurate 300s too much - and we're happy to have them. But as an addition, it looks like these will be very good.
So - you really got to check his full description out, but we included all of his text above to describe the features and design philosophy behind the module.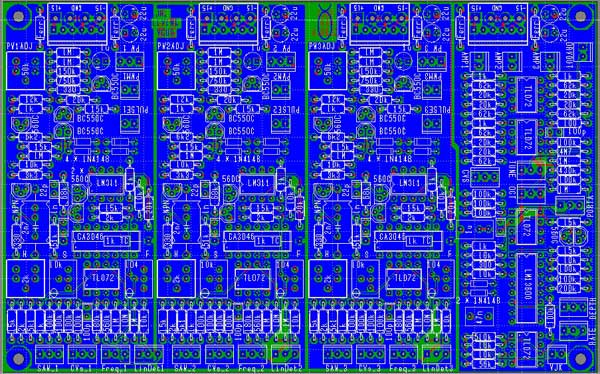 Jürgen's PC board diagram - you can click on the image to download a higher resolution image.