This is how Ken Stone desribes it:
"The Power Supply Delay is a support module of sorts. Due to rather heavy usage of bypass capacitors in the synth and diy scene (a good thing) some shortcomings of commercial power supplies have come to light. The most frequent is the failure of one or both power rails to come up at power-on, caused by the initial demand of all the bypass capacitors. The power supplies sense this as an overload and shut down.
"If modules were brought on-line in groups instead of all at once, the power-up surges would be limited to what the power supply can handle. Of course, once a group of modules has started, its current demands are less, allowing ample capacity for the supply to start another group of modules.
"The Power Supply Delay does exactly that. After a predetermined time, it closes a set of relay contacts, powering the modules connected to it.
"There is another advantage to doing this as well. The power supply has started and settled before modules are connected to it, giving them a cleaner power-on, and thus a cleaner reset signal for those modules that use a power supply based reset.
"The delay is adjustable, so as more modules are added, extra Power Supply Delays can be added, adjusted to different times to keep the start-up load distributed.
"It is better of course to have all Power Supply Delay boards powered directly from the power supply in a "star" configuration than to run them connected in series.
A little on how it works: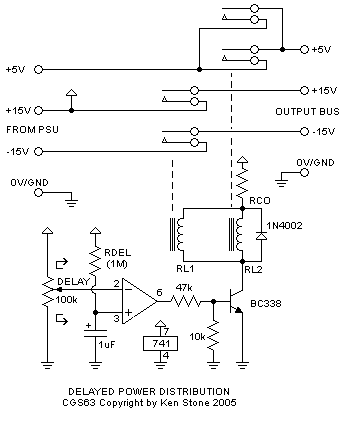 The schematic for the Power Supply Delay
"The circuit can be considered to be three parts, the delay, the +/- 15 volt system, and the +5 volt system.
"When power is applied, the voltage across the 1uF capacitor slowly rises. When this voltage passes the reference voltage set by the trim pot, the output of the voltage comparator to which they are attached swings positive, turning on the buffer transistor and the relay(s). This in turn routes power from the inputs to the outputs.