This page has become really long, so here's a table of contents that we hope will make it easier to traverse:
History - the genesis of our design
Stand Design - our design drawings
In the way-back time of 2005 when we had first decided to build our analog synth - and we decided to base our synth on Synthesis Technology components - we, of course, anticipated needing a MIDI keyboard controller to work in conjunction with the MOTM-650 MIDI-CV converter. So we got hold of a CME-UF7 (then rather new - now already an antique) and a heavy-duty On Stage stand to hold it. Thing is, we wanted to have it on wheels so we could move it easily. So we designed a dolly thing with heavy, large wheels.


the CME UF7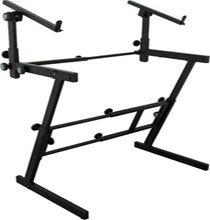 the On Stage DV016